I Accidently Ate Chips Before Dinner and Now I'm not Hungry Anymore and Other Bad Decisions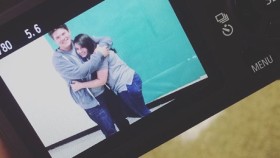 It's homecoming week at my high school, and that means that every day is a school spirit day. Students and teachers are encouraged to take part in silly attire that reflect a specific day. Yesterday, for instance, was "Mathletes vs. Athletes." The nerds were everywhere and they were adorable. Today was "Twinkie Day." In an effort to show our school spirit, my colleagues and I decided to dress alike: khaki pants and a black shirt. Easy right?
As I prepared for bed the night before, I pulled out the ole khaki pants to make sure they were in good working order. Much to my dismay, they would not button. As one might imagine, this was the beginning of a series of events that would lead me here. Exhausted and in desperate need of a glass of wine.
Enter me on Twinkie Day. I was not dressed like every other teacher in a two hall radius. I was the teacher that couldn't find a twinkie. Great. But that embarrassment did not mask that fact that I was now too fat for my pants. So, before I left for school today, I vowed to only eat fruit and drink water: Operation Lose Weight commenced.
I didn't make it through my first hour class before tearing into my lunch - a cluster of grapes. My water consumption was so extreme that I had to leave twice during my second hour class to use the restroom. I was learning very quickly that engaging students all day long and being a conscious eater do not go hand in hand.
By my actual lunch break, I had nothing to eat (I had my banana during third period). My head hurt, my stomach was growling, and I was pooped. As I reflected on my series of bad decisions, I realized how easy it was for me to let one little circumstance influence my entire health and well being, and I am a grown woman with an education and seemingly common sense. If I am able to fall prey to such negative ways of thinking, what happens in the minds of our students?
While I realize that my class is the most important thing in their lives (cough cough), my students do not always feel the same way. As an educator, it is important to keep in mind how quickly life happens - especially for a teenager. As I rushed home this afternoon to start dinner, eating potato chips while I waited for the pasta to cook, I fought hard to be happy with where I am in life. It seems that even the smallest decisions we make, what we eat and how we see ourselves, influence the learning of the students we teach.
And I thought this was going to be a silly blog post.