My Lesson Planner Website Refresh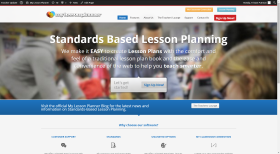 Teach With a Purpose, LLC, an innovative educational software company, announced today that it has officially launched a new website.  According to Tristan Putman, COO and founder, the new website and brand refresh are more closely aligned with the company's strategic vision for growth and expansion over the next decade, and beyond.
"We have been steadily improving our software and solutions over the last 10 years by listening to teacher feedback and building relationships with our Schools and Districts." Tristan commented.  "We recognize the importance of constantly innovating and adapting to new ways of doing business and technology and the importance of creating software that allow teachers to spend less time planning and more time teaching."
The new website offers a clean, modern design, easy-to-navigate functionality, and a content-rich site experience.  The core lesson planning functionality still enables teachers to quickly and easily plan their lessons.
"This new website will also further assist in our direct, responsive customer service that we have been known for over the last decade." Tristan said.  "Our goal in launching this new website is to provide one more access point and online resource for Schools, Districts and Individual Teachers to learn more about our software solutions and how we can help them in their every-day life and teaching experience."
The new website will also provide social media integration and direct links to the My Lesson Planner Facebook, Twitter, and YouTube pages, where software updates will appear on a regular basis.  Look for those features soon.
"We are very proud of the new website – and we hope it provides a useful, informative portal for our teachers to get to know us and our software just a little better."