New Lesson Block Editing Icon
We have just added a new feature to My Lesson Planner that cleans up the left margin area of your lesson and information blocks. Just mouse over the small knob icon and you will see all of your other editing icons. The click and drag arrows are beside the editing icon so you can still click and drag a block to another place in your lesson plan.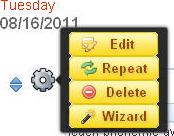 If you have any questions, or if you have any problems with this new feature, just email us.
My Lesson Planner
Customer Support Team