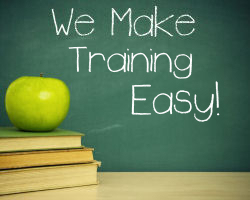 Teacher Workspace
Select from one of the following Training Areas.
Title Goes Here
The Teacher Workspace allows you to keep up with your daily events and connects you to your lesson
plans, student attendance, progress monitoring. and task lists.
To enter an event on the calendar, just enter the date, time (if applicable) the event, and any needed
notes in the green "Add Calendar Event" box. The event will enter on the date you specified immediately
after you click Save. It conveniently remembers what you last entered for easy entering of repeating
events. You can manage your calendar events by clicking on Manage Events at the bottom of the box.
Your lesson plans are linked on the lesson plan page for each day you have a lesson plan written. The
words "Lesson Plan" will link to that day's lesson plans. Mouse over an event and the notes you have
entered for that event will show. The daily events for today's date will show at the top, If you need to
see a full day's events, click on the date, and the events, times, and notes for that day will show at the
top of your calendar.
The Tasklist makes it very easy to add and delete to-do items. As you complete the tasks, the green
bar gets proportionally larger. At the end of the day all items checked off will be removed, and each day
will begin with a full red Tasklist bar.
Creating new lesson plans can easily be done directly from the teacher workspace by using the Create
New Lesson Plan box.
Each time you enter progress monitoring data, it will enter on your calendar with the student's name,
adding a quick link to the data you entered on that day.
If you are entering your students' absences on My Lesson Planner, the student's name will show on your
calendar with a direct link from your calendar to the lesson plans for the date the student was absent
.
If you have entered student birthdays, the students' birthdays and picture, if added, will also show on
your calendar workspace.
Our newest features will also show on your calendar on the date it was made available. You can turn
off this feature in Preferences.
The teacher Workspace continues to grow with the needs of our teachers. Feel free to use the contact
us link in the task bar to let us know how we can make the workspace conducive to your classroom
management needs.
TOP